The soaring snowcapped Sierra Nevada Mountains are the highest peaks in Spain and offer inspiring scenery and a peaceful escape to nature. From November through June, the Sierra Nevada Mountains are blanketed with snow. The Pradollano ski resort is just 45 minutes from Granada and has wonderful wide-open downhill slopes. As Europe's most southerly winter sports region, the Sierra Nevada has relatively mild weather and frequent sunny days with perfectly blue skies.
Descending from the Sierra Nevada mountain peaks, Las Alpujarras is an unspoiled landscape of wooded rolling hills, verdant valleys, and olive groves dotted with typical Pueblos Blancos – Moorish whitewashed villages. Nestled into woodlands and rugged gorges, these characteristic towns feature quiet pedestrian lanes, flower-bedecked houses, and small historic churches often converted from mosques. The Alpujarras is an ideal base for exploring nature trails and mountain hikes.
The Route to Pico de Veleta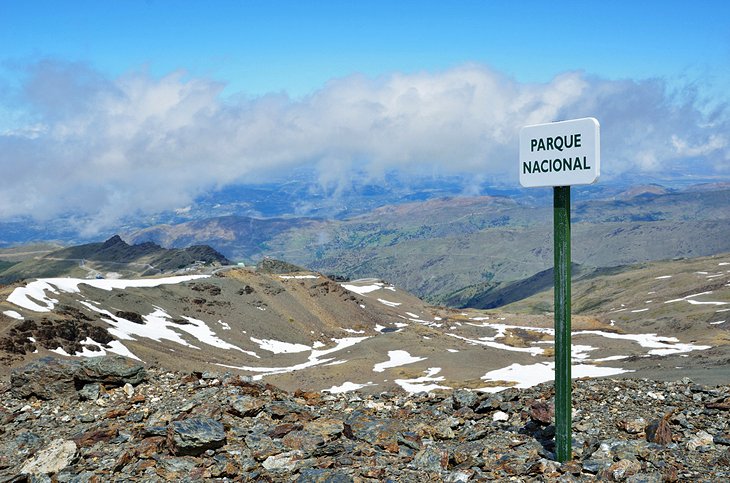 Reaching 3,428 meters, the Pico de Veleta Mountain is the second-highest peak in the Sierra Nevada range after the Cerro de Mulhacén Mountain, which soars to 3,481 meters. The road to the Pico de Veleta is an enchanting trip into the glorious mountain world of the Sierra Nevada. The journey begins at an elevation of 640 meters at Vega de Granada and climbs at a continuous ascent to 3,392 meters, nearly to the peak of Pico de Veleta, making it one of Europe's highest mountain roads. The route follows a paved road and can be made by bus or by car.