Lake Louise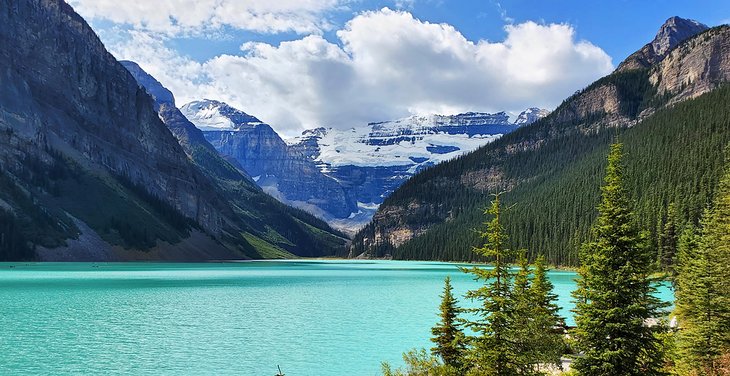 Lake Louise, the jewel of Banff National Park, is famous for its beautiful turquoise colored water that reflects the surrounding mountains and Victoria Glacier on the far shore. Located just a short drive north of the town of Banff, the lake is an easy day trip from Calgary. From the grand Chateau Lake Louise, there are fabulous views directly across the lake. A walkway runs along the shoreline allowing visitors a lovely place for a leisurely stroll to absorb the atmosphere. Canoe rentals are also available for those who want to paddle out on the lake. From the lakeside path, there are popular hiking trails leading either up the mountain side or beyond the lake towards the glacier.
In winter, the lake is frozen and trails are covered deep in snow. Many people come to Lake Louise during this time of year to enjoy the nearby Lake Louise Ski Resort, one of Canada's most popular ski destinations.
Lake Louise Village, just a short distance from the lake, has some tourist-related retail shops, small restaurants, and coffee shops. However, there is not much here beyond the main plaza. Nearby, is a large campground in a lovely natural setting.