Outdoor sports and adventure along with historical and cultural attractions make Durango one of the best places to visit in Colorado, for all types of travelers. A ride on the Durango & Silverton Narrow Gage Railroad through a canyon and the gorgeous mountain scenery up to the former mining town of Silverton is one of the most popular things to do. You can also find plenty to keep you busy wandering through the historic downtown, with many buildings remaining from the late 1800s. In winter, nearby Purgatory Ski Resort offers some of the best skiing in Colorado. In summer, hiking, mountain biking, climbing, rafting, and other outdoor activities dominate the scene. If you have time to add on a day trip, consider heading out to the Mesa Verde National Park for a close-up look at the Ancestral Puebloan cliff dwellings.
Ride the Silverton & Durango Narrow Gauge Railroad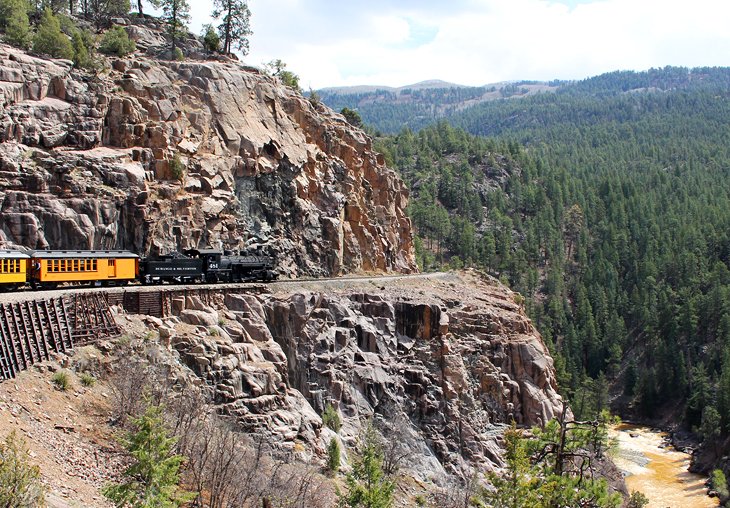 This train ride is likely going to far exceed your expectations. With beautiful, old restored carriages being pulled along by an authentic coal-fired steam engine through a breathtaking narrow mountain canyon, this trip has all the makings of a romance novel. The train cruises alongside the Animas River much of the way, as the mountains towering above become more imposing as you make your way from Durango to the old mining town of Silverton.
The train runs year-round but in winter it does not go all the way to Silverton. Instead, the train stops before the major avalanche areas and allows passengers to disembark at Cascade Canyon, 26 miles from Durango. This journey takes about five hours round-trip, with forty-five minutes to enjoy at the canyon. In summer, the train makes the 45-mile journey, all the way to Silverton. You can do the summer trip as a nine-hour, two-way train trip, with a couple of hours to explore Silverton, or take the train in one direction and a bus back for a shorter day. Alternatively, you can take the train up, spend the night, and then take the train back the next day, which will allow plenty of time to see all the sites in Silverton. If you decide to do this as a one-way trip, it's best to take the train up, to fully appreciate the technical workings of steam engines, and the bus back rather than the reverse. The train back to Durango is downhill and is constantly breaking.
Different classes and styles of carriages are available on the train. The open-air carriages with UV-protected glass-paneled roofs provide unbeatable views! In winter, glass windows are installed to keep you warm.